Find and eliminate process inefficiencies
Your manufacturing production is constantly hit from all sides with changes, from rising energy costs to increased variation. Solving these can take months and significant resources; not solving them means you're leaving money on the table.
With Fero Labs AI, process engineers can rapidly model complex processes and learn how to make them more efficient, 90x faster. Online, on prem or hybrid.
"We are always looking at how to improve our production processes to be more sustainable, to lower costs, and to be more competitive in an international market. Fero Labs helps us tackle these goals at the same time."
Utku Öner, CEO, CELSA Nordic
The Fero Labs Approach
Features built for industry
Connect data to the right context
Artificially intelligent models only drive value when data is understood in the appropriate context. Fero Labs makes it seamless to link process data to production setup, so the models can draw the most accurate conclusions.
Discover data driven analysis
Understand outcomes with confidence
Unlike conventional black-box technology, Fero Lab's white-box algorithms give your team the context behind the data and the confidence levels in the output so they can make faster, more informed decisions.
About white-box machine learning
Avoid small fires and improve live production
Optimization initiatives don't always match the reality on the factory floor. With Fero Labs deployed directly in the control room, operators get live recommendations that take into account your constantly shifting conditions.
About live optimization
"The speed of calculation is unreal. Based on the information coming in live, we can adjust the process to meet requirements. No matter what unstable conditions surround a process, Fero Labs is going to immediately give you the right answer."
Carlo Travaglini, Director of Technology, Gerdau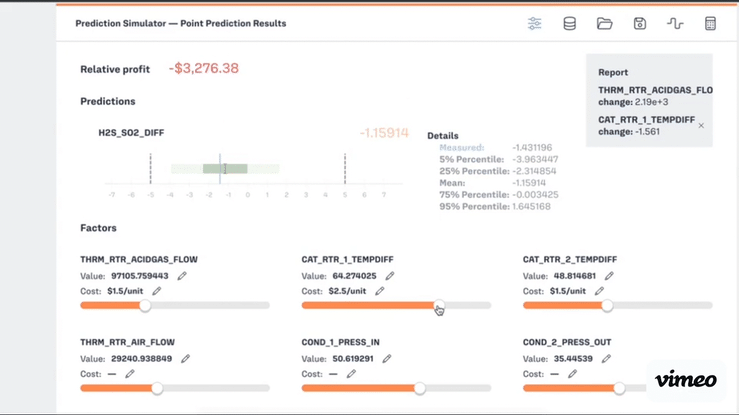 Imagine if you could get results 90x faster
Imagine if you could analyze multiple use cases at once. Imagine if the use cases that take you months could be run in minutes.
Caster predictions
Ladle optimizations
Lanxess
Aniline catalyst forecasts
And many more. Imagine your team on Fero Labs AI.
"Whether you're looking for an intuitive tool in hopes of finding the 'needle in the haystack,' or to create, deploy, and enhance a highly interactive model, I'd point anyone seeking a self-service analytics machine learning solution without a doubt to Fero Labs."
Philipp Frenzel, Head of Digital Services, Covestro